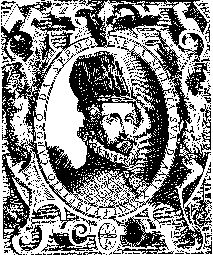 Transcription of Caroso's Il Ballarino (1581)
Methodology
This transcription is available in 2 fundamental forms: the raw, which mimics the printed original as closely as possible, and the clean, which has regularized spelling and dehyphenates words. In addition, you can get files as html or text.



---
Download the entire raw text (370 kbytes!), Download the entire clean text, Download the source file.
---
Concordance, sorted by frequency or alphabetically. I also have a concordance of just the dance titles.
There is a searchable copy of Florio's 1611 Italian/English dictionary at: http://www.pbm.com/~lindahl/florio/.
You might be able to search an electronic copy of Florio's 1598 dictionary at: http://www.chass.utoronto.ca/english/emed/emedd.html.
---
| | | | |
| --- | --- | --- | --- |
| Intro | clean text | raw | raw text |
| Book I Intro | clean text | raw | raw text |
| Rule 1 -- Doffing one's hat | clean text | raw | raw text |
| Rule 2 -- Delle Riuerenze, & prima della graue. | clean text | raw | raw text |
| Rule 3 -- Della Riuerenza Minima | clean text | raw | raw text |
| Rule 4 -- Della Riuerenza semiminima in Balzetto fatta alle Cascarde | clean text | raw | raw text |
| Rule 5 -- Delle due Continenze Graue, & Minima. | clean text | raw | raw text |
| Rule 6 -- Delle due Puntate Graue, & Ordinaria, ò Minima | clean text | raw | raw text |
| Rule 7 -- Del modo d'imparare à fare i passi Graui alli Balletti. | clean text | raw | raw text |
| Rule 8 -- De i Passi presti alle Cascarde | clean text | raw | raw text |
| Rule 9 -- De i Passi larghi fermati in Gagliarda | clean text | raw | raw text |
| Rule 10 -- De i Passetti in Gagliarda. | clean text | raw | raw text |
| Rule 11 -- De i Seguiti, & prima del Seguito graue finto à Tordiglione. | clean text | raw | raw text |
| Rule 12 -- Del Seguito ordinario. | clean text | raw | raw text |
| Rule 13 -- Del Seguito semidoppio. | clean text | raw | raw text |
| Rule 14 -- Del Seguito trangato. | clean text | raw | raw text |
| Rule 15 -- Del Seguito finto. | clean text | raw | raw text |
| Rule 16 -- Del Seguito spezzato. | clean text | raw | raw text |
| Rule 17 -- Del Seguito scorso. | clean text | raw | raw text |
| Rule 18 -- Del Seguito battuto al Canario. | clean text | raw | raw text |
| Rule 19 -- Del Seguito spezzato schisciato al Canario. | clean text | raw | raw text |
| Rule 20 -- Del modo del fare i Doppij, & prima del Doppio graue. | clean text | raw | raw text |
| Rule 21 -- Del Doppio minimo. | clean text | raw | raw text |
| Rule 22 -- Del modo di far la Ripresa graue. | clean text | raw | raw text |
| Rule 23 -- Della Ripresa Minima. | clean text | raw | raw text |
| Rule 24 -- Del modo di fare il Trabuchetto graue. | clean text | raw | raw text |
| Rule 25 -- Del Trabuchetto Minimo. | clean text | raw | raw text |
| Rule 26 -- Del modo di fare i Fioretti. Et prima del Fioretto ordinario. | clean text | raw | raw text |
| Rule 27 -- Del Fioretto fiancheggiato | clean text | raw | raw text |
| Rule 28 -- Del Fioretto à piedi pari per fianco | clean text | raw | raw text |
| Rule 29 -- Del Fioretto battuto al Canario | clean text | raw | raw text |
| Rule 30 -- De i cinque Passi in Gagliarda. | clean text | raw | raw text |
| Rule 31 -- De i Cinque Passi soprapiede in Gagliarda. | clean text | raw | raw text |
| Rule 32 -- De i Cinque Passi intrecciati in Gagliarda. | clean text | raw | raw text |
| Rule 33 -- De i Salti, & prima del Salto tondo in aria. | clean text | raw | raw text |
| Rule 34 -- Del Salto Riuerso | clean text | raw | raw text |
| Rule 35 -- Del Salto del Fiocco. | clean text | raw | raw text |
| Rule 36 -- Delle Capriole in terzo, in quarto, in quinto, spezzate in aria, & in intrecciate. | clean text | raw | raw text |
| Rule 37 -- Del modo di far'il Cambio, ouero Scambiata. | clean text | raw | raw text |
| Rule 38 -- Del modo di far' il Trango | clean text | raw | raw text |
| Rule 39 -- Del Zoppetto | clean text | raw | raw text |
| Rule 40 -- Del Molinello. | clean text | raw | raw text |
| Rule 41 -- Del Sottopiede. | clean text | raw | raw text |
| Rule 42 -- Del Trito minuto | clean text | raw | raw text |
| Rule 43 -- De i Balzetti à piedi pari. | clean text | raw | raw text |
| Rule 44 -- Del Groppo | clean text | raw | raw text |
| Rule 45 -- Del Pirlotto, ò Zurlo in terra | clean text | raw | raw text |
| Rule 46 -- De i Tremolanti | clean text | raw | raw text |
| Rule 47 -- Del Costatetto. | clean text | raw | raw text |
| Rule 48 -- Della Campanella | clean text | raw | raw text |
| Rule 49 -- Della Recacciata | clean text | raw | raw text |
| Rule 50 -- Della Punta e Calcagno | clean text | raw | raw text |
| Rule 51 -- Della Battuta di Piede. | clean text | raw | raw text |
| Rule 52 -- Della Schisciata al Canario | clean text | raw | raw text |
| Rule 53 -- Della Cadenza in Gagliarda | clean text | raw | raw text |
| Rule 54 -- Del modo di portare la Cappa, & la Spada. | clean text | raw | raw text |
| Book I Ending | clean text | raw | raw text |
| Book II Intro | clean text | raw | raw text |
| Alba Nouella | clean text | raw | raw text |
| Alta Regina | clean text | raw | raw text |
| Este Gonzaga | clean text | raw | raw text |
| Austria Gonzaga | clean text | raw | raw text |
| Ardente Sole | clean text | raw | raw text |
| Bassa Colonna | clean text | raw | raw text |
| Gagliarda di Spagna | clean text | raw | raw text |
| Amor Costante | clean text | raw | raw text |
| Fulgente Stella | clean text | raw | raw text |
| Florido Giglio | clean text | raw | raw text |
| Occhi Leggiadri | clean text | raw | raw text |
| Pauaniglia | clean text | raw | raw text |
| Villanella | clean text | raw | raw text |
| Squilina | clean text | raw | raw text |
| Passo e mezo | clean text | raw | raw text |
| Conto dell'Orco | clean text | raw | raw text |
| Bassa Ducale | clean text | raw | raw text |
| Se pensando al partire | clean text | raw | raw text |
| Coppia Felice | clean text | raw | raw text |
| Contentezza d'Amore | clean text | raw | raw text |
| Le Bellezze d'Olimpia | clean text | raw | raw text |
| Cesia Orsina | clean text | raw | raw text |
| Alta Orsina | clean text | raw | raw text |
| Bassa Sauella | clean text | raw | raw text |
| Bassa Honorata | clean text | raw | raw text |
| Barriera | clean text | raw | raw text |
| Bassa Romana | clean text | raw | raw text |
| Gratia d'Amore | clean text | raw | raw text |
| Lucretia Fauorita | clean text | raw | raw text |
| Bentiuoglio | clean text | raw | raw text |
| Pvngente Dardo | clean text | raw | raw text |
| Coppia Cappelli | clean text | raw | raw text |
| Amor Felice | clean text | raw | raw text |
| Bella Gioiosa | clean text | raw | raw text |
| Nobiltà | clean text | raw | raw text |
| Fiamma d'Amore | clean text | raw | raw text |
| Saporita | clean text | raw | raw text |
| Leggiadria d'Amore | clean text | raw | raw text |
| Alta Vittoria | clean text | raw | raw text |
| Amor mio | clean text | raw | raw text |
| Allegrezza d'Amore | clean text | raw | raw text |
| Coppia Matthei | clean text | raw | raw text |
| Pauana Matthei | clean text | raw | raw text |
| Chiara Stella | clean text | raw | raw text |
| Gentilezza d'Amore | clean text | raw | raw text |
| Rvstica Palina | clean text | raw | raw text |
| Alta Sergarda | clean text | raw | raw text |
| Gloria d'Amore | clean text | raw | raw text |
| Candida Luna | clean text | raw | raw text |
| Rvstica Amorosa | clean text | raw | raw text |
| Ombrosa Valle | clean text | raw | raw text |
| Alta Ragonia | clean text | raw | raw text |
| Gracca Amorosa | clean text | raw | raw text |
| Alta Morona | clean text | raw | raw text |
| Giunto m'ha Amore | clean text | raw | raw text |
| Marauiglia d'Amore | clean text | raw | raw text |
| La Castellana | clean text | raw | raw text |
| Laccio d'Amore | clean text | raw | raw text |
| Nuoua Fenice | clean text | raw | raw text |
| Leggiadra Ninfa | clean text | raw | raw text |
| Fedeltà | clean text | raw | raw text |
| Contrapassa nuoua | clean text | raw | raw text |
| Fvrioso | clean text | raw | raw text |
| Cesarina | clean text | raw | raw text |
| Felice Vittoria | clean text | raw | raw text |
| Bassa et alta | clean text | raw | raw text |
| Ballo del fiore | clean text | raw | raw text |
| Torneo amoroso | clean text | raw | raw text |
| Bassa toscana | clean text | raw | raw text |
| Spagnoletta | clean text | raw | raw text |
| Spagnoletta nvova | clean text | raw | raw text |
| Bassa Pompilia | clean text | raw | raw text |
| Tordiglione | clean text | raw | raw text |
| Vita, e quanto Haggio | clean text | raw | raw text |
| Barriera nuoua | clean text | raw | raw text |
| Contrapasso | clean text | raw | raw text |
| Dolce amoroso foco | clean text | raw | raw text |
| Alta rvissa | clean text | raw | raw text |
| Chiaranzana | clean text | raw | raw text |
| Canario | clean text | raw | raw text |
| Ballo del Piantone | clean text | raw | raw text |
---
---
Greg Lindahl (lindahl@pbm.com)