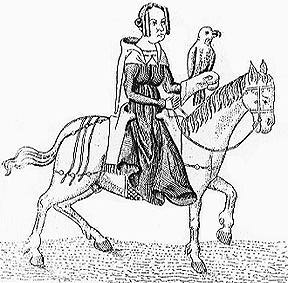 Le Ménagier De Paris
This is an unabridged transcription of the food and cookery chapter of Le Ménagier de Paris (a medieval manuscript dated to circa 1393), edited by Jérome Pichon in 1846 for La Société Des Bibliophiles François.1
This is an enormous chapter containing 197 pages of recipes, menus, and general cookery and household instructions (and about 50 pages worth of editorial notes!). There are also several recipes for ink, glue, etc., towards the end of the chapter.
The italicized numbers appearing in brackets refer to M. Pichon's page numbers.
This text is completely in French, but there is an English translation by Janet Hinson posted here.
[ There is also an article with redactions posted here. And the French National Library has a digitized facsimile of Pichon's transcription. -- gb ]
We are posting the chapters as quickly as we can, and would appreciate your comments. Should you notice any transcription errors, please bring them to our attention so that we may correct them.
Index:
Part 1 - Et à ce commencement... (pages 80-91)
Part 2 - Disner a jour de char... (pages 91-101) containing 20 menus.
Part 3 - XXI. Autre disner de poisson (pages 102-121) more menus and shopping lists.
Part 4 - La Quantite des Choses Dessus-Dictes (pages 121-124) more shopping lists.
Part 5 - Le Quint Article (pages 124-134) cooking terms and start of the recipes.
Part 6 - Potages Communs sans espices et non lians (pages 134-147) Recipes for pottages, purees, and instructions for choosing good cheese.
Part 7 - Autres potages qui sont a espices et non lians (pages 147-158) More pottages.
Part 8 - Autres potages lians de char (pages 158-171) Meat pottages and broths.
Part 9 - Autres potages lians sans chair. (pages 171-177)
Part 10 - Rost de char. (pages 177-184)
Part 11 - Pastés. (pages 185-6)
Part 12 - Poisson d'Eaue Doulce (pp. 187-194) Freshwater fish recipes.
Part 13 - Poisson de mer ront. (pp. 194-206) Round and flat sea fish.
Part 14 - Oeufs de divers appareils. (pp. 206-210) Some egg dishes.
Part 15 - Entremes, fritures et dorures (pp. 210-224)
---
1Pichon, Jérome, ed. Le Ménagier De Paris, Traité De Morale Et D'économie Domestique Composé Vers 1393, Par Un Bourgeois Parisien; Contenant Des préceptes moraux, quelques faits historiques, des instructions sur l'art de diriger une maison, des reuseignemens sur la consommation du Roi, des Princes et de la ville de Paris, à la fin du quatorzième siècle, des conseils sur le jardinage et sur le choix des chevaux; un traité de cuisine fort étendu, et un autre non moins complet sur la chasse à l'épervier. Ensemble: L'histoire de Griséldis, Mellibée et Prudence par Albertan de Brescia (1246), traduit par frère Renault de Louens; et le chemin de Povreté et de Richesse, poëme composé, en 1342, par Jean Bruyant, notaire au Chàtelet de Paris; Publié Pour La Premiére Fois Par La Société Des Bibliophiles François. Tome Second. A Paris, De L'imprimerie de Crapelet, Rue de Vaugirard, 9. 1846.
---
[ Return to The Medieval & Renaissance Food Homepage ]
HTML by Cindy Renfrow. Thanks to Greg Lindahl for hosting this document.
---