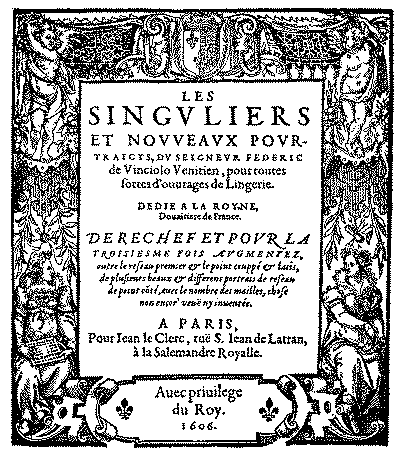 Les
Singvliers
Et Novveaux Povr-
traicts, Dv Seignevr Federic
de Vinciolo Venitien, pour toutes
sortes d'ouurages de Lingerie.

Dedie La Royne,
Douairiere de France.

Derechef Et Povr La
Treoisiesme Fois Avgmentez,
outre le reseau premier & le point couppé & lacis,
de plusieurs beaux & differens portrais de reseau
de point cõté, avec le nobmre des mailles, chose
non encor' veuë ny inuentée.

A Paris,
Pour Iean le Clerc, ruë S. Iean de Latran,
à la Salemandre Royalle.

Avec priuilege
du Roy.
1606.

Introduction
Lace-making and needlework were popular activities all over Europe when this book was published. Federic Vinciolo, the author of this book, was from Venice, but lived in France, and produced laces for the French court. The 1606 book is the 3rd printing of an edition first printed in 1587. This edition has text in French. This scan was taken from the Dover facsimile edition published in 1971; the facsimile is not copyright. The Dover edition is still in print and costs around $9.
Related Sites
Facsimile Table of Contents
Click on the links below to look at individual pages of the facsimile. You can also download the entire facsimile as a large (4.4 megabytes) printable pdf file. There is another facsimile from the French National Library (5.7 megabytes), which I've never compared to see if it's really the same.

And that's the entire book.
---
Return to the SCA Arts and Sciences Homepage.
---
Who else has links to this page?
---
Scanning and Charts by Teri Landow / Lucrezia dei Bracchi (deibracchi@yahoo.com).
Webbed by Greg Lindahl / Gregory Blount