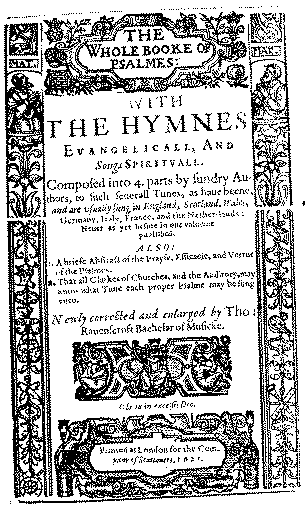 The Whole Booke of Psalmes: With The Humnes Evangelicall, and Songs Spiritual. [...] (1621)
This is a scan of the Early English Text series microfilm of this book. Each page was scanned at 300 dots per inch.

You can download the entire book, suitable for printing. It is 13 megabytes.

Some of these songs are available in modern notation. I have also collected other information about Thomas Ravenscroft. There is another website which contains tunes and texts of many other psalters. The Bay Psalm Book (1640) is also online.

This book is "corrected and enlarged" from an older work by Thomas Sternhold (d. 1549), which, like this one, was reprinted many times, and appears several times in the Early English Text series. The first surviving edition for Sternhold's version is 1562, the last is 1639 (and the collection that I looked in ends in 1640). So Sternhold's editions bracket Ravenscroft's editions in 1621 and 1633; not bad for a dead guy. For more details about the relationship between these works, see the articles by Illing and Payne in the bibliography.



---
Return to the Thomas Ravenscroft page.
---
Greg Lindahl (lindahl@pbm.com)