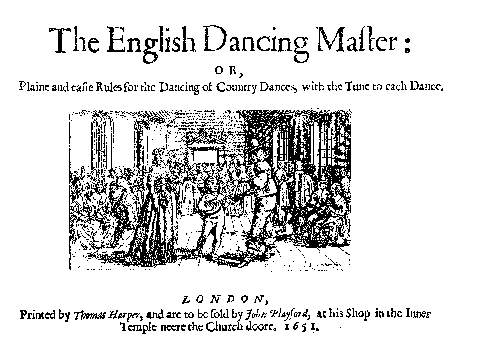 Facsimile of John Playford's 1651
The English Dancing Master
Or,

Plaine and easie Rules for the Dancing of Country Dances, with the Tune to each Dance.

L O N D O N,

Printed by Thomas Harper, and are to be sold by John Playford, at his Shop in the Inner
Temple neere the Church doore. 1 6 5 1.
---
This facsimile was scanned at 300dpi. You can download the whole thing as a printable pdf file (2.8 megabytes.) Related websites include the SCA Dance Homepage, a transcription of the 1st edition, a transcription of the 2nd edition (1653), and a summary of all editions of Playford.
A Table of the Dances contained in this Booke
Contents
FINIS.
---
Return to the SCA Dance Homepage.
---
Who else has links to this page?
---
Greg Lindahl